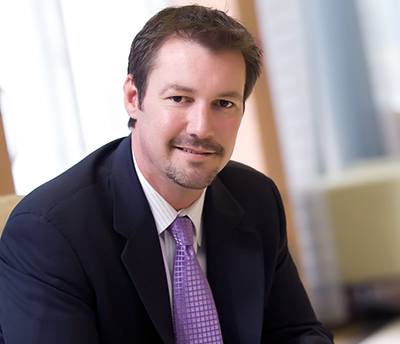 Allen F. Bennett has been helping entrepreneurs and small businesses protect their intellectual property for over 10 years. Prior to law school, Mr. Bennett graduated cum laude from the University of Arkansas with a B.S. in Biochemistry.
He had a successful career as a research scientist, focusing on genetic and protenomic research. Mr. Bennett is a published scientist, having co-authored a scientific paper in the prestigious science journal Biochemistry. While specializing in life science patents, Mr. Bennett has also successfully secured patents in a variety of different technical fields.
Upon completing law school in 2001, Mr. Bennett worked at both IP boutique and general litigation law firms.
He has also served as in-house patent counsel for a small start-up company developing cutting edge gene therapy techniques.
These experiences give him the ability to evaluate your innovations and your needs from both a legal and a business perspective. This allows you to choose the type of patent protection best suited to your needs.
By maintaining his offices in quiet, scenic Delray Beach, rather than downtown Miami, Ft. Lauderdale, or West Palm Beach, he is able to provide uncompromised services at affordable rates which large law firms simply can not match.
| | |
| --- | --- |
| 7,663,022 | Transgenic bioluminescent plants |
| 7,517,669 | Gene regulation therapy involving ferritin |
| 7,456,028 | Electrochemical method for detecting water born pathogens |
| 7,348,183 | Self-contained microelectrochemical bioassay platforms and methods |
| 7,240,911 | System for controlling distribution of fluid to a system of air bags for use with vehicular trailers |
| 7,153,703 | Synthesis of stable colloidal nanocrystals using organic dendrons |
| 7,147,441 | Microfluidics and small volume mixing based on redox magnetohydrodynamics methods |
| 7,127,909 | Crushed ice extruder |
| 6,988,561 | Ergonomic planar grading hand tool |
| 6,983,580 | Variable size product on edge packaging system |
| 6,887,714 | Microvolume immunoabsorbant assays with amplified electrochemical detection |
| 6,745,129 | Wavelet-based analysis of singularities in seismic data |
| 6,720,473 | Intra-vascular administration of particles to induce pulmonary hypertension, pulmonary hypertension syndrome, and ascites in poultry |
| 6,657,052 | Biomolecular labeling |
| 6,399,698 | Process for the synthesis of epoxidized natural oil-based isocyanate prepolymers for application in polyurethanes |
| 6,346,544 | Desmethyl tocopherols for protecting cardiovascular tissue |